WHO DEVELOPED RADIO SASS?
Now past his 30th year in broadcasting, George Gimarc has worked at a variety of stations in Dallas, always with a hands-on involvement with programming. In March of 1977 George began "The Rock & Roll Alternative" on KNTU which was one of the first regular "new wave" or "punk" radio shows in the US. The program was soon picked up by the #1 rock station in Dallas, KZEW, where it aired through 1987. Acts that George was responsible for breaking in the DFW area include R.E.M., the Go Go's, U2, Psychedelic Furs, Sex Pistols, Devo, B 52's, XTC, The Smiths, The Cult, and hundreds of others. The "Rock & Roll Alternative" continued through 14 years, until it was retired. It was broadcast on four different stations throughout its run in Texas, and at one time was on as many as twenty pirate radio stations throughout Europe, England and Australia.

In 1982 George Gimarc was also given the task of designing a new type of oldies station, which found it's voice as KRQX 570am in Dallas. Working on instinct and observation, what emerged was a new format called "classic rock" that soon caught on like wildfire across the nation.
After leaving the comfy confines of KZEW in the winter of '87, George started "Back Pages" on KZPS. It was an eclectic classic rock show combining rare records, intriguing stores and loads of listener requests. It was the only spot to hear those rarest-of-the-rare recordings.
Then in 1989, word leaked out that a new station was going on the air in Dallas and George jumped in with both feet. KDGE (The Edge) was musically designed by George and his new friend Wendy Naylor. A staff was hired and the station hit the air at the end of June of '89. It was an instant success, defining the cutting edge in rock and breaking new acts left and right. He also put together and self financed all eleven of the station's "Tales From The Edge" CD releases, selling over 100,000 CDs in the DFW market.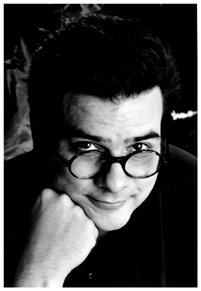 Beyond the Edge, George took full control of his role as owner of Reel George Productions, an umbrella organization that covers his present role as a music historian, writer and producer. He wrote three books for St. Martin's Press ('Punk Diary 1970-1979,' 'Post Punk Diary 1980-'82' and 'Hollywood Hi Fi'), and now is with Backbeat Books. He was also the creator and sole writer for the 'Rotten Day' radio program, and co-created VH1's 'Rotten Television' program with John Lydon, former front man for the Sex Pistols.
He also does consulting work on video and CD projects like the Time/Life 'History Of Rock And Roll' series as well as releasing materials from his own vast archives. Somehow, he also found time to dabble in talk radio, hosting 'the Lost Tapes' for the Texas State Network for six years.
Although he's best known for his contributions to the alternative music scene, George Gimarc is expert in many fields of music. His enthusiasm for the radio business, combined with a love of music has made him a programming innovator who's had many successes, and has helped shape his favorite medium. Now he's come up with something that he feels will top them all....... Radio SASS.